Timber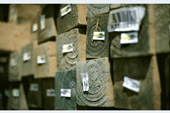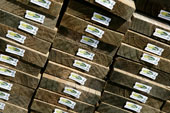 We manufacture three sizes of plastic staples and market the staples along with a range of applicators to apply labels to timber.
The staples are non-corrosive, resistant to light, common chemicals and do not chip or blunt down stream processing equipment.
Our BIPA (Beepah) Labelling System applies pre-printed labels primarily to timber and prints the date, code or batch number on the back of the label.
Our TAGA applicator is similar to the BIPA but without a printer, hence it is lighter in weight.
Our TAGA Duoplas Stapler is specifically designed to handle our range of staples as well as competitors and is unique in that it can apply any of our range of staples simultaneously (a world first). These units are pneumatically operated.
We have a battery-operated applicator for portable use along with hand tackers and hammer staplers in our range.
We have designed and installed automatic labelling machines specifically for the timber industry.

Retail and Stock Control, Bar coded tags can be applied
For more information please contact Derrick Woods our Technical Director.